What we use to make grids and separators?
Grids and separators are made of a wide range of 3-layers and 5-layers corrugated cardboards. There are many different cardboard's weight and cover papers in use. They are adjusted to needs and functions which certain cardboard must fulfill (such as product stabilization on a palette). These are recycling waste inside the box made of 240g/sqm weight, through testliner covers up to kraftliner.
Testliner – recycling waste paper use as top of corrugated cardboard – it may also consists an outer layer made of pull-dyed paper or paper obtained from non-recoverable, bleached or unbleached pulp.
Kraftliner (kraft paper) – produced as two-layer goods, usually made of 100% primary fibres (mainly conifer) without recycling fibres at all. Kraftliner of a natural brown color characteristic for kraft cellulose, has both layers (top and bottom) made of sulphate cellulose, sometimes with a small addition of high yield masses and semi-hardwood masses.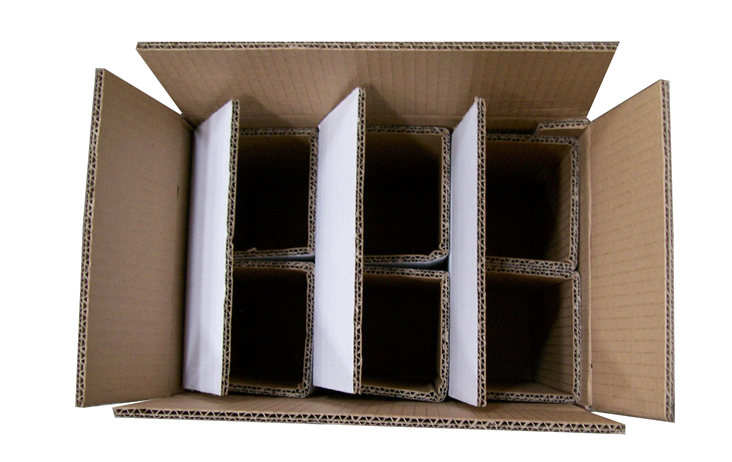 The raw material selection to create the package determines its purpose. It is a common practice that separators are used as the outer layer protection for household goods equipment or others which requires a high resistance to puncture.
They are often used to separate ingredients placed in the bulk packaging. It allows to use lower-value carboards, thus eliminates high raw material costs.
Among others, there are products which require separators which combine different raw materials to protect ingredients from scratches. We concentrate on individual customer's requirements when choosing tailored separators.
In case of bigger quantity of packed elements grids separate the products. The range of raw materials is similar to separators. A large selection of paper weights, paper covers and corrugated cardboards, such as E, B, C, EB, BC are found of well-planned production. Separator and grid sizes are represented in a big dimensional spectrum. It starts with small elements which are interior of the box, e.g.: from bulk packages up to big constructions integrated with a box itself (large size packages).
Contact us and ask for separators and grids.